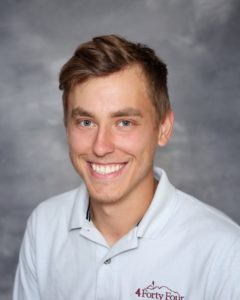 From an early age, Jeromy, a native of Monee, Illinois, loved working with his hands. As his love for building grew he even assisted his father in building his childhood home! In 2016 Jeromy married his lovely wife Ashley. That year also included a move to Colorado where both Jeromy and Ashley worked as cooks at a Salvation Army camp. Not long afterwards, home and family beckoned them to move to where they now reside near Lenoir, NC. Enjoying time near family is even more special as they now have an adorable one-year old son.
Jeromy's continued love of working with his hands led him to working with 4 Forty Four in June of 2018. His knowledge of building and craftsmanship continues to flourish under the great tutorship of the seasoned craftsman of the 4 Forty Four team. His strong work ethic and desire in helping everyone both with their work and as a brother makes Jeromy a valuable part of the 4 Forty Four family.
Besides working with his hands Jeromy enjoys working on his own home, cooking, gardening, camping, spending time in nature and spending time with his son and their dog.