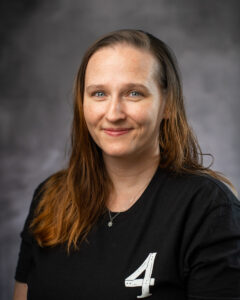 Growing up, Sarah was an all around athlete who did everything from soccer to snowboarding. She was even fortunate enough to receive a collegiate athletic scholarship. Her grandfather, who was her everything, was an advocate for education, and instilled in her a thirst for knowledge. Because of that, she calls herself an "athletic nerd" and is blessed to have three degrees; Associate's in Liberal Arts from Lenoir Community College, Bachelor's in Business Administration from the University of North Carolina at Greensboro, and a Master's in Sport Management from Western Carolina University.
Prior to working at 4 Forty Four, Sarah worked for the local government in Winston-Salem doing event planning and project management. That experience coupled with the Project Management courses she took while obtaining her Master's led to her desire for a career in this industry. As an Office Administrator, she enjoys being behind the scenes, crunching numbers, and assisting with keeping operations running smoothly. While she is not a fan of Winter (she keeps her space heater and electric gloves close by at all times), she is grateful to work in such a beautiful area where each season is perfectly on display.
When not working, Sarah enjoys shenanigans with her husband and children (fur baby included), watching/playing sports, and is a force to be reckoned with in the kitchen. Some of her fondest memories include spending time with her grandfather and favorite uncle in Louisiana, where the company is sweet and the food brings the heat!