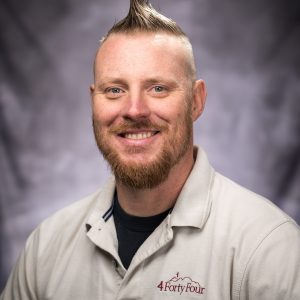 Simon first learned carpentry as a teenager when, after graduating high school at 15, his parents let him travel for a carpentry apprenticeship in Atlanta, GA, where he learned the trade and earned a Joiner II classification with the United Brotherhood of Carpenters and Joiners. Simon studied Computer Science and German at UNC Asheville, and after moving to Germany in 2005, studied Environmental Engineering at TU Muenchen in Munich. While overseas, he worked in various forms of construction, including building and installing dovetailed post-and-beam style roof systems. He also spent time as a head chef in Munich and Freising. Simon and his daughter moved back to Asheville in 2012, where he worked as a high-end custom trim carpenter until 2016. He has enjoyed working with the experienced and family-like crew at 4 Forty-Four since late summer 2018.
After moving to the Boone area in 2016 to be with his childhood friend, Christy, they added a son to the family in late 2017. Now with a range of 18 months to 18 years, Simon spends most of his off time keeping up with his kids.
He also enjoys hiking, traveling, working in his wood shop, riding the Parkway on his motorcycle, and getting lost in antique book stores.