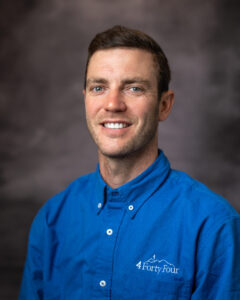 Travis grew up in Eastern North Carolina but always took advantage of any opportunity to visit the Western part of the state. After graduating from high school, he moved to Winston-Salem where he began his 12 year career as a professional cyclist, competing all over the world. He raced for several domestic professional teams, represented the US National Team, and raced in 3 World Championships.
As Travis' racing career began to wind down, he and his wife moved to her hometown of Boone and Travis' focus turned to his passion for building and he began work as a carpenter for a custom home builder. His desire to learn and grow led him to 4 Forty Four, adding his eagerness and building experience to the team. His natural leadership skills and positive energy bring immense value to each project he is involved in.
Travis still enjoys mountain biking and living a healthy lifestyle. He and Jeanette enjoy being outside and spending time with their dog, Booger.