We were honored to create this 1,600 square foot home in Blowing Rock, North Carolina for a first-time homeowner. Our Project Management Team collaborated with the Client and Sketchline Architecture to design and define both the structural and functional aspects of this two-story home, maximizing the space and floor plan.
Our Interiors Team worked with the Client to select finishes to reflect their personal style through the home—such as a dark-walnut stain for the front door to pop against the painted exterior. The kitchen introduces a soft gray shaker-style cabinet with a bold Fantasy Brown quartzite for the countertops. The kitchen island also has built-in cabinets underneath the countertop overhang which is a great way to maximize storage in a small space.
A raw wood mantel in the living room mixed with porcelain tile creates the perfect cozy fireplace and the open back deck is framed with cable deck railing, surrounded by a canopy of trees, which we are sure will be the perfect backdrop for gatherings throughout many seasons.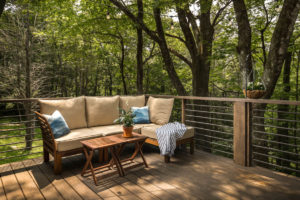 As with all homes, our goal is to leave your fingerprints on your project. Whether this is a special entryway, a cozy living room, or the perfect layout for entertaining, we commit to finding opportunities that reflect you and the things that make you unique. Our properties are hand-crafted by skilled experts in order to provide a space that is a reflection of who and what you are.
We are thrilled with the outcome of Balsam Fir and are so happy for this special new homeowner!
Custom Building Firm: 4 Forty Four
Architect: Sketchline Architecture
Exterior & Interior Finish Selections: 4 Forty Four Interiors (Furnishings by Client)
Photographer: REAL BOONE Visuals