Chestnut River Renovation
We are proud to present Chestnut River Renovation. Emily Anderson of 4 Forty Four Interiors designed and coordinated a custom renovation of the kitchen, three full bathrooms and a powder room to create an updated traditional, mountain aesthetic, featuring welcoming colors and high quality finishes. Our craftsmen worked extensively with this Client in the past and we were delighted when they contacted us ready to update more spaces in their Banner Elk home.
This beautiful mountain home features wormy chestnut paneling throughout the adjacent great room and dining room. Because of chestnut blight that killed nearly all mature American chestnut trees in the 1900s, wormy chestnut lumber is rare and highly desired in custom homes throughout Appalachia. It was important to the designer and Client to highlight the chestnut while still keeping the new kitchen light and bright. This was achieved by combining a custom wormy chestnut range hood and island cabinetry with a layered painted perimeter that highlights the rare wood. The kitchen features inset cabinetry from Carolina Artisan through Distinctive Cabinetry of the High Country, Copenhagen granite fabricated through Classic Stoneworks, a farmhouse kitchen sink with an extra faucet for purified drinking water, and glazed ceramic backsplash.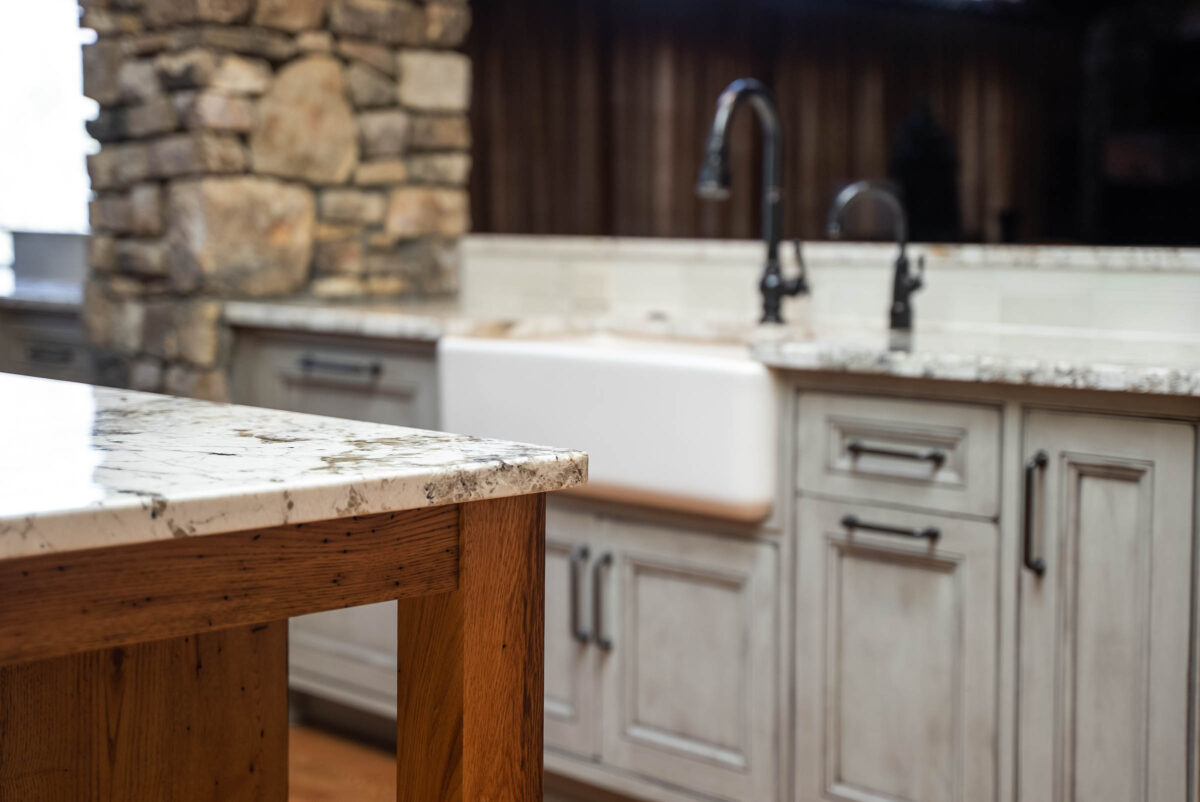 The kitchen had a unique layout which was redesigned to achieve the client's goal of better flow and usability. Furniture-like details in the island design and fully integrated appliances make the space feel timeless. Knotty pine tongue & groove ceilings, oak hardwood floors and column stonework were all laced in to expand ceiling height and further unify the space.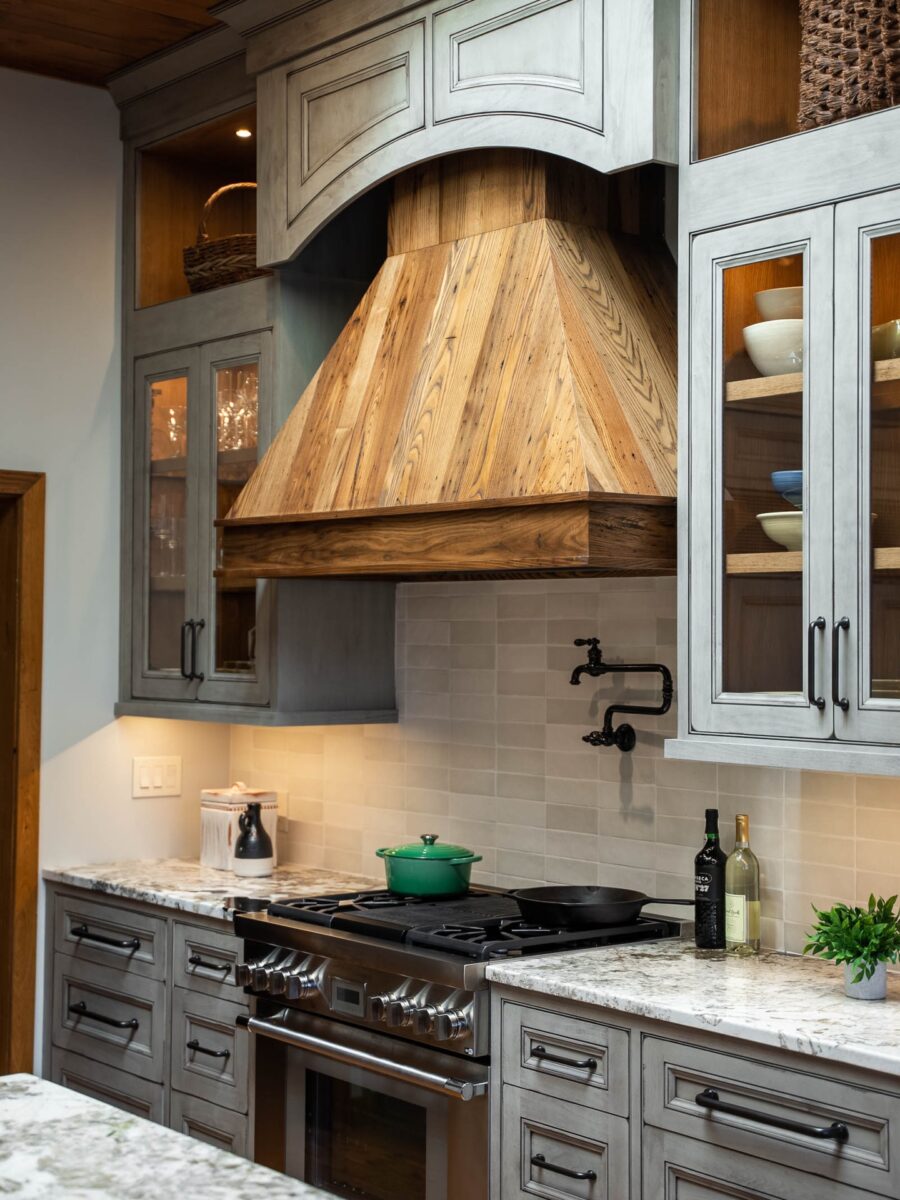 By re-engineering a larger header, the once divided space was unified.Two flanking peninsulas and a custom island provide countertop seating, ample prep space and storage.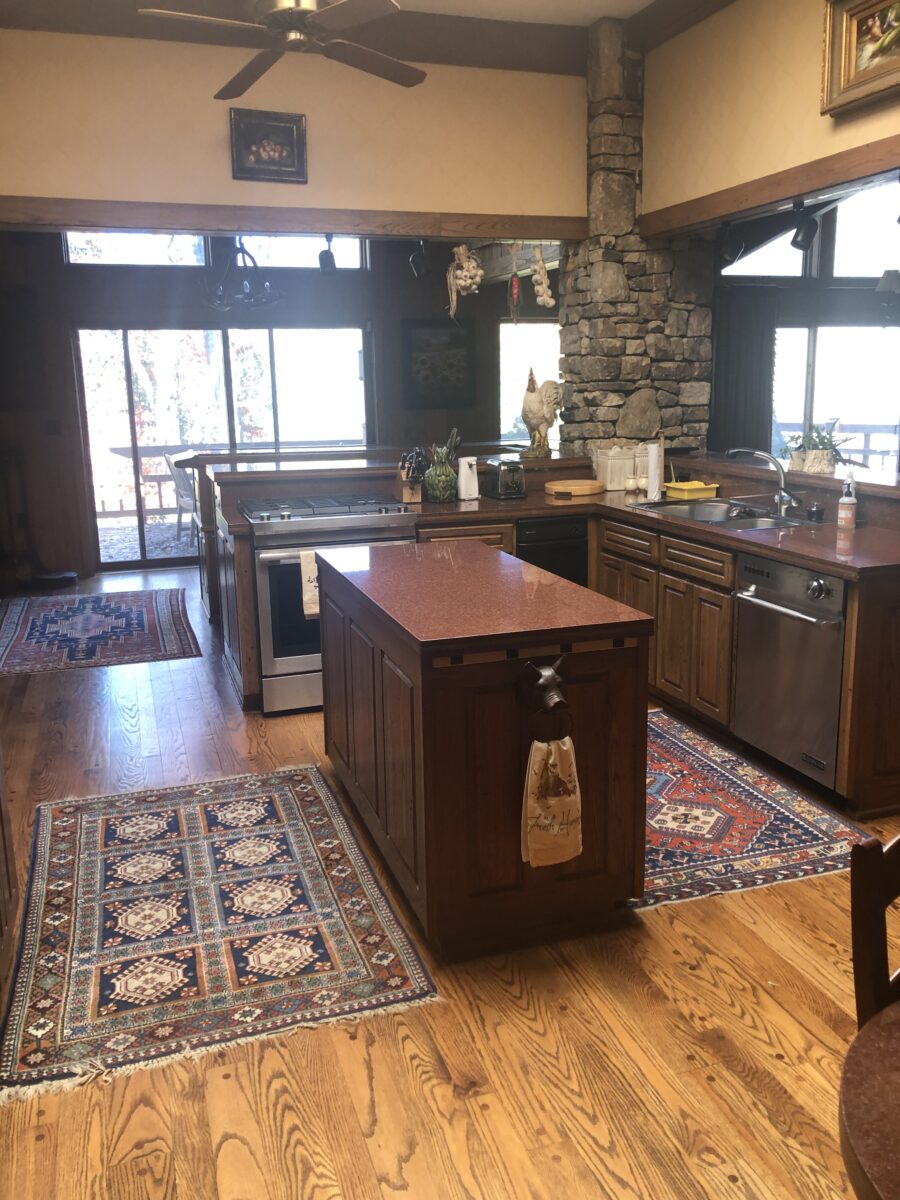 In the lower level, we updated an ensuite bathroom to add a tranquil and unique touch. Carrying the blue tones from the adjacent bedroom, this bathroom has various shades of blue in the tile and french blue vanities which are calming and gentle. The ensuite includes a two sink vanity, makeup counter, custom integrated mirror, towel warmer, oil rubbed bronze hardware, patterned distressed tile flooring, and beautiful layered paint finishes. The open shower feels light and roomy, with marble walls, matching tile insets, a built in bench and custom niches under the shower head.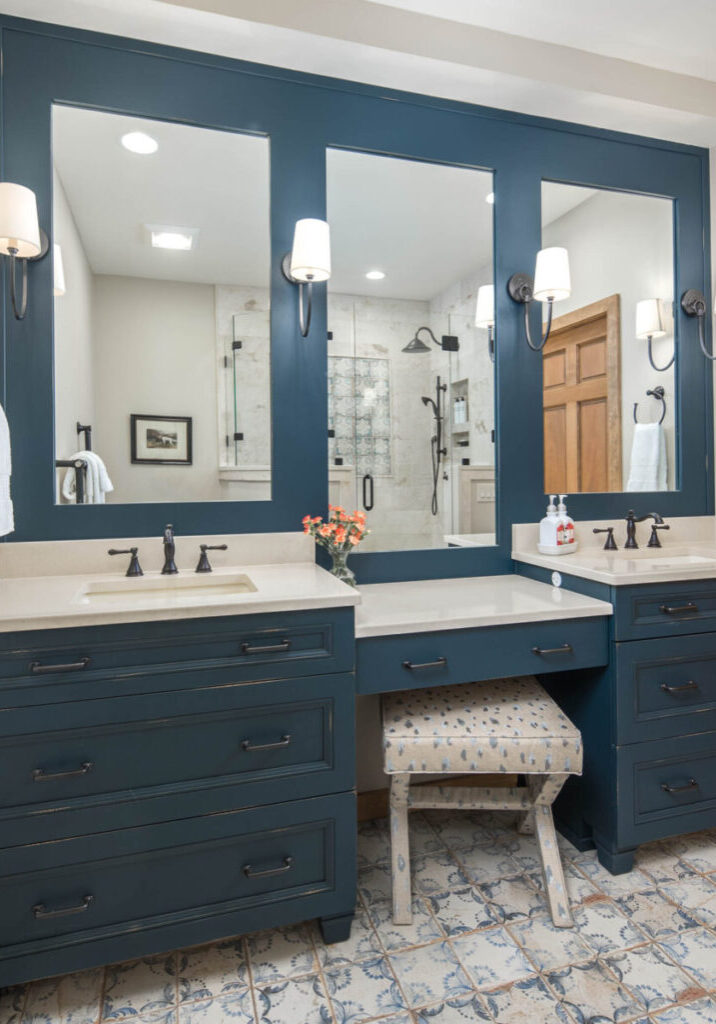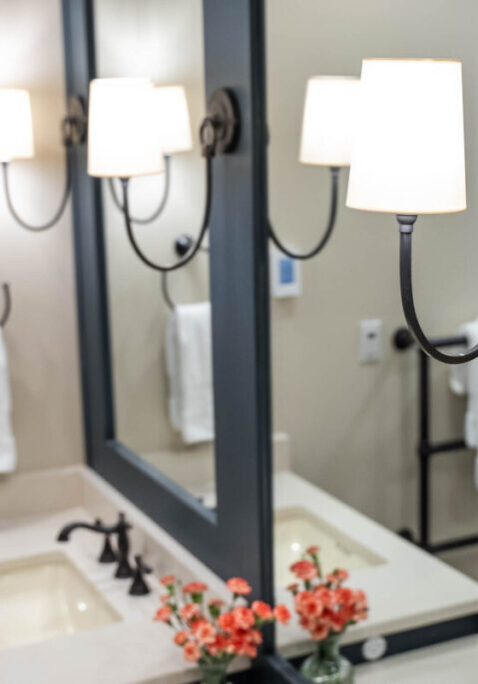 4 Forty Four InteriorsAll of the bathrooms in this renovation were designed to complement the tones and finishes in the adjacent bedrooms. For example, the slate hexagon mosaic tile floor in an additional lower floor bathroom features grays, browns, blues and golden sand to pull tones from the custom window treatments and bedding in the adjacent bedroom. In another bathroom's shower, the medallion tile applied to the back wall expertly ties together the colors and patterns present in both the bathroom and the bedroom it accompanies. Finally, the powder room was updated with shiplap walls, a custom painted vanity, beautiful Taj Mahal quartzite countertop and improved lighting.
We are thrilled with the outcome of this renovation and hope our Client's enjoy many years in their updated mountain home.
Custom Builder: 4 Forty Four
Interior Design: 4 Forty Four Interiors
Photographer: Real Boone Visuals