Sketching the Perfect Office
When the Boone Area Chamber of Commerce expressed interest in our Discovery Process, we knew this was a great opportunity for our design-build team to support the business community in Boone. Building off the vision established in earlier stops along the Chamber's roadmap, we launched into Discovery excited and energized to design the Chamber's dream office.
What is "Discovery?"
Discovery is our process of integrating design and construction services under one roof. We host a place for the client to collaborate with our team of professionals to establish expectations and make decisions on how to effectively deliver on them. In Discovery, Architecture, Interior Design, Project Management, Engineering and Estimating are integrated to ensure your dreams become reality–with confidence in your financial, aesthetic and functional goals.
New Office Sneak Peek
It was important to the Chamber team for their new office to be a central location where members felt welcomed and had a place to "be" - whether waiting for a meeting, hosting an event, or checking emails between points A and B in Boone. Sketchline Architecture created a floor plan that provided a functional and welcoming layout and 4 Forty Four Interiors collaborated with clean, crisp and modern finishes and selections.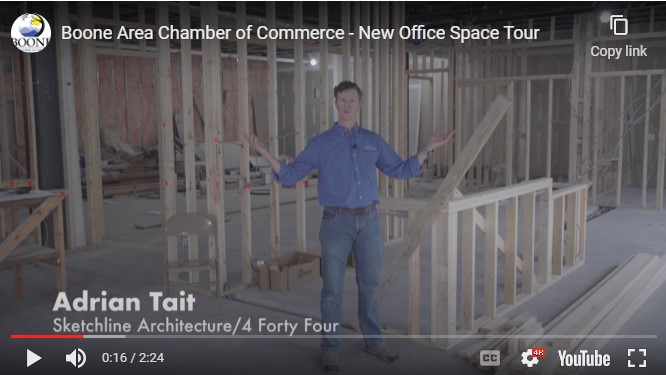 Reflecting Boone
The chamber team wanted a space that reflected our community, our culture, and ultimately the vision for where we're headed. Our Designers selected Blue tones to feature throughout as a nod to our Blue Ridge Mountains and the classic Boone Area Chamber of Commerce logo. Also throughout the space are accents of North Carolina natural elements such as stone and wood. Looking towards the future, the finishes are also modern and tech-friendly.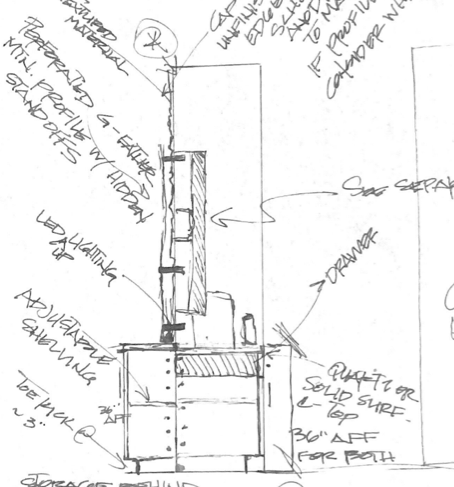 Now that the design is created, floor plans sealed, flooring and finishes selected, budget finalized and schedule in place….next up is groundbreaking! 
Tune in next week as dreams are transformed into reality and construction begins!
Final Thoughts
Whether Commercial or Residential, if you're interested in learning more about our Custom Building Discovery Process, reach out to us here. This integrated project delivery model is a method in which all design and construction services are coordinated by a single entity - 4 Forty Four. Together, this harnesses the talents and abilities of all project stakeholders: Client, Architecture, Interior Design, Project Management, Engineering, Vendors, and Subcontractors. This method is utilized to minimize risk, facilitate effective communication, reduce cost and ensure a timely delivery of a quality home or commercial space.